Upcoming Courses
Begin 2023 with an eight-week therapeutic yoga journey contemplating & cultivating qualities that awaken our vitality and life engagement.
Each Sunday class in this eight-week series will explore a different quality of contemplation and aliveness that awakens our vitality and deepens our connection with ourselves and others. We will practice asana (movement and shapes), pranayama (breathing practices), along with any combination of mindfulness meditation, mudra (hand positions), manta (repeating word/phrase), and chanting as a way to weave and anchor qualities that we already possess more deeply into our body, heart, mind, and soul.
Sunday 4:30-5:45 PM, Jan. 1 – Feb.26, 2023 (* No class Jan. 29, 2023)
Week One- Setting our North Star: New Year's Aspiration
Week Two- Suspending Judgement: Kindness & Understanding
Week Three- Intimate Awareness: Direct Experience through the Senses
Week Four- Effort and Surrender: Finding Balance
Week Five- Forgiveness: Compassion & Letting Go
Week Six- Discipline: Holding Our Feet to the Fire
Week Seven- Playfulness: Love, Laughter, and Joy
Week Eight- Dedication & Devotion: Walking the Path of a Yogi
All are welcome! Whether you have been attending this Sunday Therapeutic Yoga class for over a decade or you are joining for the first time, we form a virtual community of humans growing together.
What if you miss a class or more? No problem! A recording of each class will be sent out weekly for you to enjoy at another time. Recordings will be available for the duration of the series.
Therapeutic Yoga aspires to enhance healing the heart, relieving stress in the body (tension, injury, surgery, or arthritis) and mind (depression, anxiety, and the stress of daily living), and liberating the soul for both those new to yoga and those wanting a slower gentler yoga practice.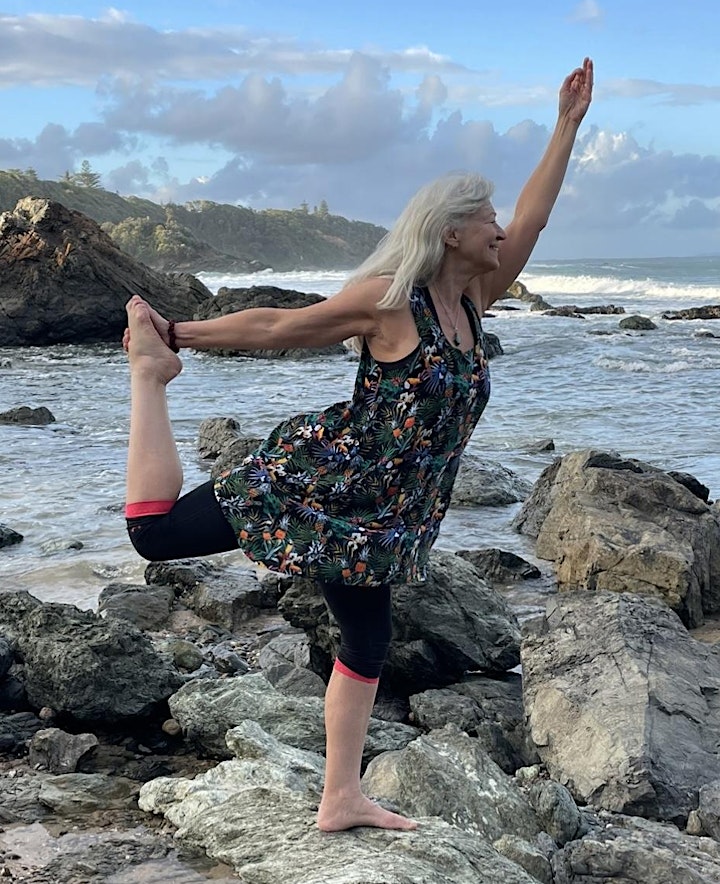 About me
Professionally:
The Healing Arts are my passion: Yoga Therapeutics, Mindfulness Meditation, and Mindfulness-Based/Trauma-Informed Psychotherapy.
We all want to grow and heal, regain our center when we fall off balance, recalibrate when we veer off course, and remember our True Nature when we're lost in self-doubt, depression, anxiety, and lose touch with our sense of purpose and meaning. The healing arts offer us maintenance and support for daily living. Hatha Yoga helps us to relax our bodies, open our hearts, and clear our minds.
I have been practicing yoga off and on since my college days and teaching yoga since 2009 when my daughter left for college.
I've been practicing meditation since the '90s and teaching mindfulness meditation since 2011.
I am a clinical psychotherapist and have been in private practice since 1997 and specialize in mindfulness-based and trauma-informed clinical psychotherapy.
Personally:
Mother Nature is my Therapist! I love experiencing the changing seasons and the adventures that each one brings. While yoga and meditation help me stay sane, dancing, biking, kayaking, hiking, and canoeing help my body stay lubricated while enjoying the gifts of Mother Nature. I love traveling and experiencing different cultures, especially Costa Rica, Bali, and Australia.
I became a grandmother twice in nine days! I'm looking forward to cultivating a relationship with both of my grandchildren, Danny and Charlotte, despite the miles and oceans that separate us.
I look forward to meeting and learning more about you!
For more information visit:
Hi, I'm Mira Tessman
"Mira" Mary E. Tessman, MA, LCPC, RYT-300, C-IAYT is an experienced mindfulness-based clinical psychotherapist, a mindfulness meditation teacher, a hatha yoga teacher, and a certified yoga therapist and has been in private practice for over twenty years. She supervises graduate-level clinical psychology students and has been a college adjunct faculty psychology professor and speaker. She was co-founder/director of the Heart's Journey Wellness Center for five years.
Mira has facilitated hundreds of contemplative, healing arts, and spiritual growth presentations, workshops, classes, and retreats for over two decades.
Visit Mira at www.wellspringhealingarts.org and www.heartsjourneyyoga.com
initially started yoga as an antidote to my sedentary lifestyle and to improve my flexibility. I was hooked after my first class with Mira. It was transformational. I get something out of every class and workshop. Aside from the physical benefits, I feel a great sense of well-being in her classes, and see many parallels between what happens there and other aspects of my life. She is a true expert and teacher on so many levels.
I love Mira and have been taking her Sunday morning yoga class for years. It keeps me grounded both mentally and physically. Mira has such a passion for yoga and her own practice that resonates. Her classes blend a variety of postures, breathwork and a reading at the end that is just perfect!
Every yoga class with Mira is stimulating for my body, mind and spirit. Always offering accommodations/options, Mira inspires me with her intuitive readings, challenges me to strengthen not strain and encourages me to recognize the harmony and peaceful energy in my own being. Plus her classes are FUN! Mira Tessman is truly an amazing, gifted yoga instructor!
Mira offers a supportive, creative and fun environment in all her classes. Her Therapeutic Yoga class is especially wonderful and has really helped me to manage my low back pain.
'Try yoga and meditation before Prozac; it can help elevate & stabilize mood.'
My Story
"Mira" Mary E. Tessman, MA, LCPC, C-IAYT has been practicing yoga off and on for over 25 years and started teaching yoga in 2006. Mira is a certified yoga therapist, completed a 300-Hr training, currently teaches several classes a week, and offers private yoga therapy in the Baltimore area.
Mira views her yoga and meditation practice as the most consistent and potent sources of spiritual, mental, and physical strength and support in her life. Besides teaching yoga, Mira is a mindfulness-based clinical psychotherapist and uses a mindfulness-based approach in her private practice.
She suggests to her clients, "Try yoga and meditation before Prozac; it can help elevate & stabilize mood." Mira has been facilitating expressive arts, healing, meditation, and spiritual growth workshops, retreats and groups since 1994. She supervises Master's level psychology students and has also been an adjunct psychology professor. Mira was co-founder and co-director of the Heart's Journey Wellness Center in Towson for five years.
Mira enjoys planning yoga routines, traveling to exotic places (Bali is her favorite!), and also likes to dance, hike, kayak, bicycle, and hang out with her family and good friends.