Upcoming Courses
New York-based Immersive Ritual Theatre Group descends upon the myth-drenched New Mexico landscape to present Baba Yaga redefined
Antler Alchemy presents
"Baba Yaga & the Ouroboros Incantations".
A collaboration between Antler Alchemy, Mythos Libations, Visual Artist David Irving Weiner, & Kairosthymia
New York-based Immersive Ritual Theatre Group & Travelling Elixir Bar, Kairosythmia, descends upon the myth-drenched New Mexico landscape to present a week of "Baba Yaga & the Ouroboros Incantations"; a tale of the infamous witch goddess of Eastern European lore told like never before.
Presiding over birth, death, and life itself, this potent figure of our wildest imaginations is brought to life in the flesh, blood, and bone to regale us with Her-Story. Told asynchronously through a tripartite cluster of biographical characters: Baba Yaga, a feral maiden of the forest, fierce medicine woman/mother, and a "shamanka" trickster crone. This mythic figure is the ground stuff of the mighty legendary status she occupies today.
Join us on this immersive theatrical performance & interactive elixir bar with an open heart & mind. Be ready to be transported to a place out of time with this gripping tale of love, loss, and the uncanny amidst the rich transcendental backdrop of the pre-Neolithic period — a world primordial and animate everywhere with the resplendent magic of every day.
Antler Alchemy, Mythos Libations & Kairosythmia present you with a unique elixir bar each night, live music, and an epic Baba Yaga- themed DJ experience on Saturday.
Ticket Info:
VIP Patron of the Arts ticket gets you into all events, includes unlimited drinks at the elixir bar, and the special Wednesday event of meeting the artists. You are a huge benefactor in making the project happen! Thank you. 
All other tickets are sold separately for each event. The pre-sale tickets are available 24 hours until the event.
Read more about Antler Alchemy & Parse Seco & The Event here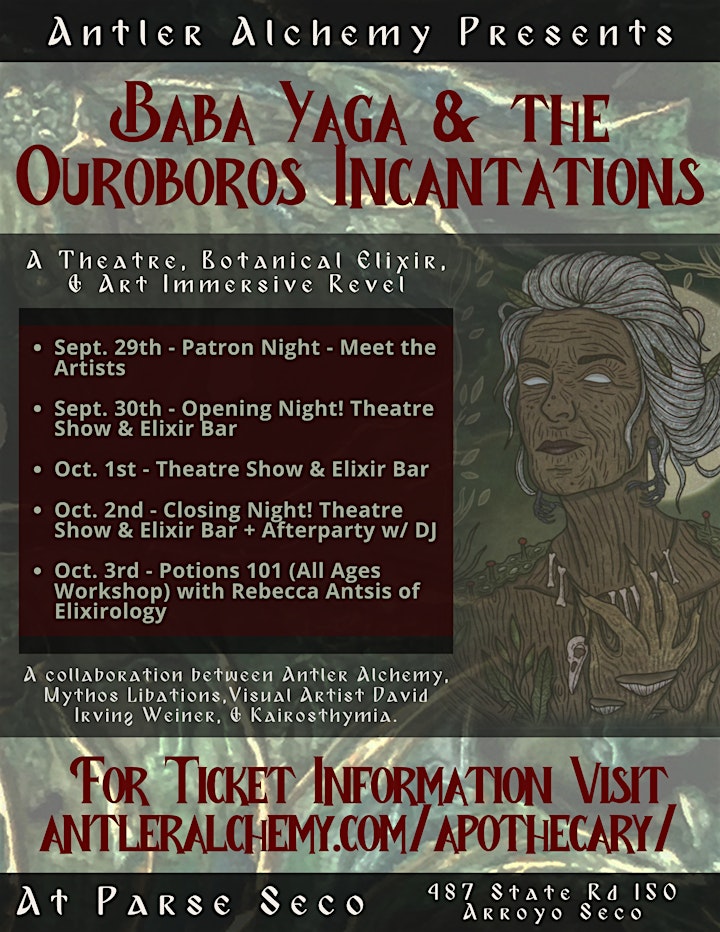 Hi, I'm April Rameé
April Rameé is a revolutionary clinical herbalist using ceremonial practices + plants to offer ancient wisdom. April is the CEO of Antler Alchemy, which brings nature, spirit, and ancestors out to play through profound one-on-one integration of plant medicine + herbal warrior medicine path, an online herbal school, Botanical Mystery School, and international retreats + workshops. April is a certified 800-hour yoga teacher, a sound healer, fire dancer, + revolutionary herbal warrior of the light. April navigates life with one key intention – to spread love and the healing energy of the universe. Her tools include one-on-one clinical sessions + mentorships, plant medicine, yoga, pranayama (breathwork), plant ceremonies, dance, sacred sound, wild nature hikes, and more. Her main focus is to blend the sacred arts + grounded transformation to remember and reconnect our souls with Earth and the Cosmos.
"With her knowledge of plant allies and spiritual practice and her own personal experiences with such journeys, April guided me through a process of opening to my creativity. I felt at ease with her and was able to be quite open about my struggles, she responded to all my fears and concerns with compassion and loving-kindness." – Portia Hough, PhD – Scientist + Author

"If you choose to work with April in any capacity, she will inspire you with the way she lives her life, the dedication she has to her work, and the true alignment she has to the realm of all that is sacred. May your path to healing be blessed by the healing hand of this magical woman, April Ramee."
"I have never quite had an educational experience as I did under April's guidance, and I highly recommend anyone called to learning about the world through the incredible lens of plant medicine to take this class, as you will gain tremendous insights from studying under her." -Amy Midkiff
"Trees are poems that the earth writes upon the sky." ― Khalil Gibran
My Story
Why I Serve
I know how I serve. The plants and herbs have shared with me time and time again, my purpose.
I'm here to bridge the gaps between the sacred + practical.
All the years of studying Business, accounting, and how to live in the practical world trained me for this moment.
I understand what it means to be in the flow states. I know what it means to throw everything "normal" to the wind in pursuit of knowledge + harmony with Earth. I understand what it means to work at a desk every day for 12+ hours for someone else's goal. I know the purpose of being present in every moment. I understand the follies that are necessary to reach your goal.
I've spent many years in ceremonies, conducting ceremonies, holding space for transformation, + being humble enough to be knocked down to learn lessons on how important it is to hold sacred space for others' wisdom to birth into existence. I hold space for anger, fear, anxiety because I know those states and how to transform them into a gift.
I am here to serve the planet, our divine Earth, through sharing the knowledge of the herbs, integrating herbs + daily ritual (routine), integration from plant medicine ceremonies, and hold containers rooted with the wisdom of practical and sacred.
I am here to serve you, so you can make the dreams come true that your heart is calling you to create. Our time here is a gift + we must be ready to receive fully to give what is known as our destiny.
I blend the paradigms because I walk in the darkness and the light. The plants teach me every day that both sides co-exist in harmony– always. I'm a humble student. I'm here to blend plants + people so we can remember. REMEMBER THE TRUTH of who we are.