Upcoming Courses
restorative based yoga class with an emphasis on pranayama breath and non-judgmental observation.
This is a donation based space. We care more about you showing up than if you have the money or not. whatever you feel called to offer.
In this class you will be guided through the breath to start feeling the body. This is a sacred non-judgmental space devoted to healing emotionally, physically, and mentally. wear comfortable clothes. This class is for any body. I will offer variations for every posture. the purpose of this class is to bring our awareness to the breath as a tool to re-integrate our awareness back into our body and become whole finding our true inner-peace. We will practice asana, pranayama, meditation, and yoga nidra in this class.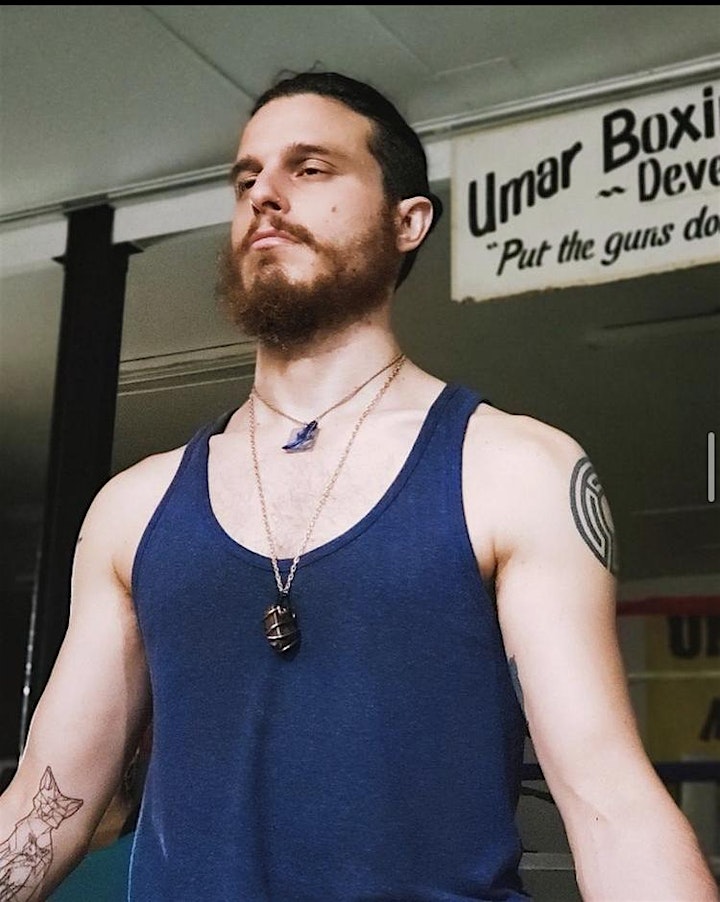 Hi, I'm Alex Ambridge
I have been teaching yoga for years. I have over 500 hours of training in different styles of yoga including the Jivan Yoga Teacher Training through BYV 200 Yogaworks 300, Kemetic yoga, trauma sensitive yoga, among other healing arts. My mission is is to co-create a world of healing and magical bliss by sharing my inner light and creating bridges where there were once gaps between different people. I hold a sacred space of judgement free support for healing emotionally, physically, and mentally. By learning to feel our emotions in a safe space of intention, we may break down the walls of our own ego and transcend to a higher state of awareness in the heart.
When it comes to guiding others through a yoga practice, Alex has such a gentle, kind and nurturing approach. His passion and love for the practice shines through and his love for the people he is guiding shines even brighter. His strength and power always reminds me of my own especially in times when I may have forgotten. I hope whoever comes through for his sessions within this community leave their mats feeling the same.
"My outdoor flow with Alex was the perfect accompaniment on a warm summer midday. We practiced gentle and intuitive yoga while grounding ourselves in the midst of moist, dewy grasses."
My firm's virtual yoga class taught by Alex was fantastic! Alex was such an engaging instructor and had the my entire staff participating and relaxing. He taught us all some much needed stress reduction techniques and his down-to-earth vibe was a welcome retreat from our busy workday. Plus, he was a pleasure to work with and made sure that everyone was comfortable, no matter their experience level. Alex has my highest recommendation!
I have been practicing with Al Ambridge for several years and he is one of the most knowledgeable and unique teachers I have practiced with. He has a vast knowledge of yoga and mindfulness which is clearly conveyed in his classes. He is very much inclusive of all humans and is patient and accommodating for all levels of ability in his practice. Al expertly guides his students through the sequences with his abundant charisma while still remaining true to yoga lineage. His instruction style is challenging as well as highly enjoyable. When we were still in studio, I would drive a from Annapolis to Baltimore weekly to make it to his class and I was never disappointed. Al is an asset to the Baltimore Yoga Village and to the local yoga community as well. As a result of living his yoga practice, he has become well-connected and cherished by me and many others. I am looking forward to practicing with him again!
"There's no way you're supposed to feel other
than how you feel"
My Story
Yoga has helped me through many life experiences.
I have battled with anxiety and depression throughout my life and the beautiful science of yoga has gone hand-in-hand with therapy and healing emotionally.  The deep spiritual philosophy and mindful observation has expanded my awareness. The spiritual philosophy and development of non-judgemental awareness has helped me to overcome deep self doubts and fear, to boldly step into my throne, to reclaim my power unapologetically, and has expanded my awareness. Yoga also reminds me to be gentle with myself, because this process is a slow drip.
I care very much about social justice and apply my yoga practice to holding myself accountable toward serving the disenfranchised communities. This process began in the PeaceCorps, which helped me to come to terms with my own whiteness. Now, I am a member of Prison Yoga Project in Maryland and have spent years teaching kids yoga through BeMore Green and the Food Project in West Baltimore.
I believe as adults, we can learn a lot from children. Part of my own healing has been inner child work and I have found in my own yoga practice the best way to get in touch with my inner child is to get goofy and let loose.
We are naturally social creatures and need each other for our growth. As the founder of the Men's Healing Warrior Circle, I hold a safe space of support for self-identifying men to awaken their true divine masculine potential. Community and containers of safety and support are something I take very seriously.
I have been trained in thai body massage, trauma sensitive yoga, Jivan Yoga Teacher Training at Baltimore Yoga Village 200 hr, Yogaworks 300 hr, and Kemetic yoga, as well as kid's yoga and have been teaching yoga since 2017.
Your yoga practice with me will be about slowing down and feeling, with an emphasis on the breath. When you come to my class I provide philosophical knowledge, in a sacred space and a safe atmosphere , where you can fully embrace your true self. Freedom to get as goofy and weird as you like! We are a supportive community. Come flow with me and uncover your own potential.